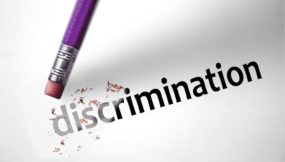 Our Law Practice Targets Discrimination.
FOR A FREE ONLINE SELF ASSESSMENT OF YOUR EMPLOYMENT DISCRIMINATION CASE, VISIT OUR CASE ASSESSMENT Q&A TOOL.
We are anti-discrimination lawyers who fight to obtain just compensation for persons treated differently by employers because of impermissible considerations of marital status, race, color, age, sex (gender), sexual orientation, disability, pregnancy, the need for pregnancy leave or accommodation, the need for medical leave for a serious medical condition, or discrimination because of a history of cancer, national origin, ancestry, religion, political views, denial of dad-time or mom-time to bond with a newborn child; denial of medical leave; failure to accommodate a disability while recovering from an injury, or failure to make work adjustments for permanent disability.  We also represent persons discriminated against because of military reserve status, or veteran status, or because called to active duty.
We oppose harassment on the job, and we fight to obtain compensation for persons harassed because of membership in any of the "protected categories" above.
Retaliation Related to Discrimination is Illegal.
We oppose retaliation against employees who complain of discrimination to a manager, only to find they are subjected to harassment or termination because of their complaint. We empower you by asserting the anti-retaliation laws to obtain just compensation for job loss and emotional injury.
We will also pursue remedies for employees discriminated against or harassed because of gender identity and gender expression.
Discrimination Laws Set Prohibitions and Mandate Actions
The basic anti-discrimination and proactive discrimination laws state these employee protections:
* Prohibits discrimination in all aspects of employment including hiring, termination, promotion, salary and benefits.
* Prohibits harassment of employees or applicants and requires employers to take all reasonable steps to prevent harassment from occurring.
* Requires that all employers provide information to each of their employees describing forms of sexual harassment, its illegality, internal and external complaint processes and legal remedies.
* Requires employers to reasonably accommodate employees or job applicants with disabilities to enable them to perform the essential functions of a job.
* Requires employers to provide a leave of up to four months to employees disabled by pregnancy or childbirth.
* Requires that all employers provide a reasonable accommodation to an employee disabled by pregnancy, childbirth, or a related medical condition who follows the advice of her health care provider and requests an accommodation.
* Requires employers of 50 or more persons to allow employees who meet certain criteria to take up to 12 weeks leave in a 12-month period for the birth of a child; the placement of a child through adoption or foster care; an employee's own serious health condition; or to care for a parent, spouse, or child with a serious health condition.  Also requires employers to post a notice informing employees of their family and medical leave rights.
* Requires employment agencies to serve all applicants equally, refuse discriminatory job orders, and refrain from prohibited pre-employment inquiries or advertising.
* Prohibits discrimination by unions in membership or employment referrals.
* Prohibits retaliation against any person who has filed a complaint with the Department of Fair Employment and Housing, participated in a discrimination investigation, or opposed any activity prohibited by the Fair Employment and Housing Act.
* A complaint of discrimination must be filed within one (1) year of the date a discriminatory act occurs. Those age 18 and younger who experience discrimination must file a complaint no later than one (1) year after turning 18—regardless of the date the discriminatory act occurred.
Conclusion
We feel a heavy responsibility and an honor to be employee rights lawyers obtaining just compensation for persons improperly denied employment benefits and opportunity because of discrimination.